What the sudden, widespread outpouring of support for Ukraine suggests about Western Hypocrisy in a Cold War and the ongoing marginalization of the Global South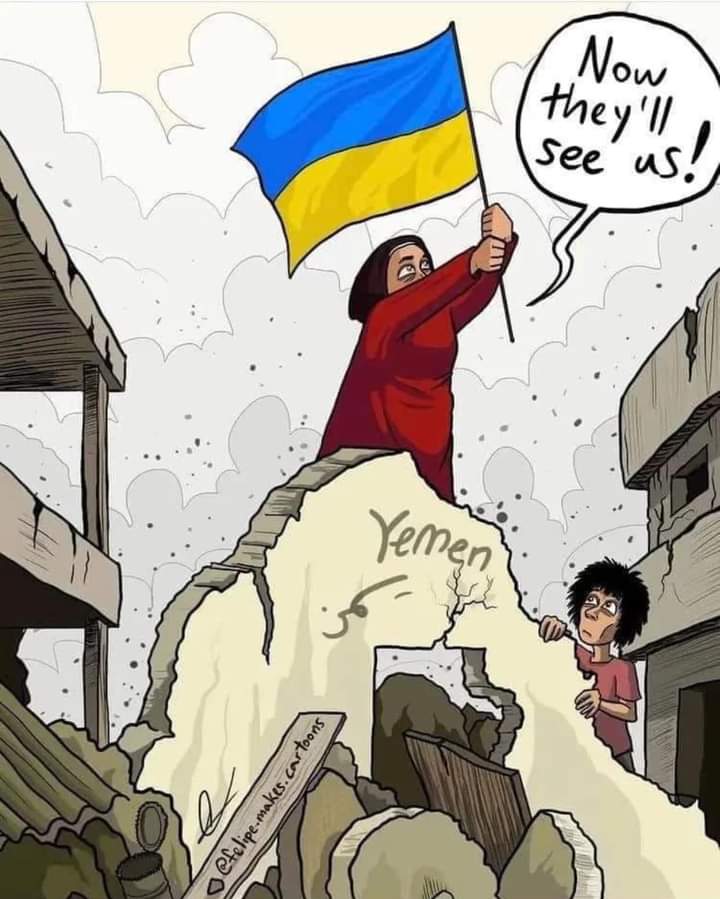 On February 24th Russian troops invaded Ukraine. As news of Putin's incursion spread, social media quickly became saturated with posts condemning Putin's evil, imperialist desires and lamenting the outbreak of war in the 21st century. By February 27th, people across the world from London to Cape Town to Buenos Aires gathered in public spaces to express their solidarity with the people of Ukraine. Yet, what about the people of Somalia and Ethiopia? Afghanistan and Yemen? Palestine and Syria?  The loud response to Ukraine— in contrast to callous silence regarding human atrocities elsewhere— has illuminated the prevailing racism and Eurocentrism in which the plight of people in the global South is seen as inconsequential to the West, and therefore unimportant. 
In writing article this article, I seek not to plunge into a roulette of whataboutism and diminish the significance of Ukraine. The volatile situation of Ukraine serves as a jarring reminder of the lingering Cold War tensions with Putin explicitly enacting his desires to redraw European political sovereignty and undermine Ukraine's sovereignty. Ukraine deserves global attention, and the Ukrainians undoubtedly deserve our solidarity. Yet, so too do the Palestinians who know too well the pain of colonial occupation and Yemenis who have suffered bombing and injustice for years, both of whose plights have largely been ignored. In a daring opinion piece, William Shoki and Sean Jacobs of Africa is a Country observe that the West's loud response to Ukraine reveals that "the 'rules-based' international system was a fiction from the start, in place to consolidate Western dominance."[1] The Western response to Ukraine is not driven by a genuine concern for the violation of human rights, but rather Putin's desire to destroy the post-Cold War international order and thus challenge Western domination.[2] Western governments have swiftly announced their censure of Putin through blustery speeches and broad-reaching sanctions. Similarly, conglomerate sports federation such as Formula 1, the British Premier League (BPL) and the UEFA soccer federation displayed their solidarity by committing to end respective events scheduled to be held in Russia.[3] At the same time these very governments and organizations have an exhaustive record of ignoring and enabling human atrocities in the self-interested pursuit of profit and other material interests. Putin is deserving of censure, yet so too are the governments across the glob, including Western governments who have allied with authoritarian regimes to ensure their capitalist interests.
Nowhere is the widespread hypocrisy of the West best illustrated than in the disregard for and complicity in the severely underreported crisis in Yemen. Following the pro-democracy Arab Spring uprising— despite initial successful in ousting authoritarian Ali Abdullah Saleh— Yemen descended into unrest and civil war, culminating in "wars within wars"[4] with Houthi rebels fighting in the North against internationally-recognized government force, and separatists in the South pushed for the return an independent state South Yemen. As the conflict expanded with Saudi Arabia aiding the internationally recognized government's troops and Iran backing Houthi rebels.[5] Numerous western nations have the blood of Yemenis on their hands in sustaining the Saudi bombings through arms sales. Former US National Security Advisor Ben Rhodes feebly justified the US's initial involvement in the Saudi-led coalition's intervention — and ironically given the ultimate outcome and the US's recently exposed grim record in Afghanistan— on the grounds that the US hoped it "could be a constraint…[to ensure Saudi] bombing was not targeted on civilians."[6] Yet, those Europeans who scoff at the US's brash and bloated self-bestowed status as the "leader of the free world" and its subsequent military "interventions" in the Middle East, should take note of the their governments' complicity with both the French and British selling arms to the Saudis. In a salient and nuanced criticism of the West's—Britain in particular's— ongoing amicable relationship with the Saudi regime, leftist commentator Owen Jones emphasizes that, yes, both sides of the conflict have committed human rights violations, but that "what matters is that [western] government[s are] directly arming and supporting one side, and therefore [bear] direct responsibility for their actions"[7]
F1 and the EPL similarly acted against Russia while just last year nonchalantly accepting Saudi money. The BPL removed coverage of the league from Russian television. Yet, last year the league allowed the Newcastle club to be purchased by a Saudi sovereign fund, an act described by Amnesty International as "deeply immoral."[8] Moreover, in accepting Saudi money, critics have indicted the BPL in aiding Saudi sportswashing efforts to hide its dismal human rights record, especially given that the money flowing into the BPL stems from the same fund which is funded the horrific murder of Jamal Khashoggi.[9] Likewise, F1 was accused of the similar complicity in hosting the Jeddah Grand Prix. In what can only be described as a rhetorical "flipflop," the FIA justified racing in Saudi by deploying its #weraceasone statement: "the FIA Formula 1 World Championship visits countries all over the world with a positive vision to unite people", arguing that F1 could serves as a "positive influence."[10] Suddenly, however, the FIA mobilized similar assertions of its alleged commitment to equality and unity to explain its unwillingness to host the Sochi Grand Prix originally scheduled for later this year.[11] To be clear, we should not care less about Ukraine. Rather, we should care about the crises in Yemen and the rest of the global South in the same way we have mobilized support for Ukraine." The distinctly hypocritical actions of Western governments and sports federations have brought what refugee rights activist Hassan Akkad has aptly entitled "selective empathy" into sharp focus.
This is especially significant given the Saudi's blatant disregard for Yemeni civilian lives and vital infrastructure has helped push Yemen's already blighted situation into the undesirable status as the "worst humanitarian crisis in the world."[12] The war has pushed 20 million people to the brink of starvation and Saudi-led coalition bombing of infrastructure has produced a cumulative impact of the worst "worst outbreak of cholera ever recorded."[13] According to Human Rights Watch (HRW), the Saudi-led coalition has not only engaged in unlawful airstrikes— indiscriminately targeting sites ranging from family homes to public markets— but violated laws of war in preventing vital aid from reaching Yemen through the imposition of "an aerial and naval blockade, which has limited aid and commercial shipments to Yemen."[14] A consequence of which is that, as of 2020, "only 20 percent of the country's minimum fuel needs have been met, gravely exacerbating difficulties of food and water distribution."[15] 2020 Investigations Not only should the Saudis be tried before the the International Criminal Court, but that the "direct role U.S. forces played in [helping plan] specific military operations" might indict the US as being liable Saudi war crimes."[16] Instead, the decision to continue to arm Saudi Arabia and look the other way as each school bus, hospital, or wedding party is bombed, may say more about U.S. culpability than any technical argument buried in a State Department legal memo. Thus, at the same time, the world pushes for Putin to be tried his illegal bombing of civilians and utilization of cluster bombs, we might similarly want to ensure that all perpetrators of war crimes be held accountable, and that western governments be forced to address their own culpability.
With racist marks such as CBS correspondent Charlie D'Agata belief in the need to highlight to his viewers that Ukraine "isn't a place, with all due respect, like Iraq or Afghanistan that has seen conflict raging for decades,"[17] many astutely blame this marked "selective empathy" and its blatant eurocentrism on mainstream media alongside imperialist—capitalist— governmental policies. Yet this ongoing double standard is rooted in a festering colonial ideology, of which the media's biased reporting is merely a loud mouthpiece. Under this ideology, the globe may be neatly cleaved into a civilized world marked by the metropoles of Europe and America and an uncivilized Global South that exists on a steep gradient leading toward inclusion in "world." Telegraph journalist Daniel Hannan demonstrated this ideology when he noted that the war in Ukraine was distinct because it represented "civilization in retreat."[18]
It is the latter half— in its backwardness– that continues to "require" the civilizing influence of the West. In the postcolonial era, the imperial agenda reinforcing this ideology is merely disguised as "development" or the "spread of liberal democracy." Moreover, the longevity of this ideology through slashing the global South from History, instead essentializing nations south of the Brandt line according to their latest postcolonial crises. The Middle East is stereotyped a site of barbaric violence and cultural backwardness, while Africa is one of poverty and famine. Hence, journalist Nesrin Malik observes that war in the global South is portrayed as "contained" and "distant" from the West.[19] The political usefulness of this portrayal is blatant in what is unsaid. Nowhere is it mentioned that the crises plaguing the global South are linked to histories of imperialism which produced political instability and economic "underdevelopment." More recently, these crises have been exacerbated by capitalist imperialism and predatory Work Bank loans. These regions are only drawn into the Historic record when the serve as the sight of western benevolence or sights of cultural backwater in which the West must intervene to save their oppressed women.[20]
Within such a context of deeply entrenched racism, the exemplary response to Ukraine was to be expected. It is inescapable that many people have succumbed to a sensationalist media machine that both naturalizes and essentializes violence in the Global South, while mourning the outburst of violence in the Europe. What cannot be excused is the blatant— and willful— lack of critical thinking and self-reflection that allows such narration to gain unchecked traction.
In response to the invasion of Ukraine and to push their governments to respond, many on social media were quick to MLK's pithy quote: "It really boils down to this: that all life is interrelated. We are all caught in an inescapable network of mutuality, tied into a single garment of destiny. Whatever affects one directly, affects all indirectly." These same social media users might want to consider the way in which they are similarly tied to the violence and upheaval occurring in Yemen and elsewhere. After all, beyond the deep-seated entanglements of imperial legacies, it is American and European bombs that continue implode Yemeni school buses and homes. It is also the West's willful ignorance that allows these atrocities to continue unimpeded
---
[1] William Shoki & Sean Jacobs, "The Russians are here," Africa is a Country, March 03, 2022.
[2] "The Russians are here."
[3] Matias Grez, Patrick Sung and Wayne Sterling, "These are the sports that Russia has been suspended from," CNN [online], March 07, 2022.
[4] Yemen: A History of the Conflict, Foreign Policy Association [film], 2020.
[5] Yemen: A History of the Conflict.
[6] Yemen: A History of the Conflict.
[7] Owen Jones, "Why is the UK government still getting away with complicity in the Yemen war?", The Guardian, [opinion], January 20, 2022.
[8] "Newcastle United Deal Was Always 'blatant' Saudi Sportswashing," Amnesty International UK, July 30, 2020
[9] "Newcastle United Deal Was Always 'blatant' Saudi Sportswashing."
[10] Dominic Tobin, "F1 claims it will help change Saudi Arabia's 'terrifying' human rights laws. Can it really?", MotorSport [online], December 03, 2021.
[11] Formula 1 statement on the Russian Grand Prix," Formula One [online], February 25, 2022.
[12] Yemen: A History of the Conflict.
[13] Yemen: A History of the Conflict.
[14] "What Military Target Was in My Brother's House: Unlawful Coalition Airstrikes in Yemen," Human Rights Watch, November 26, 2015.
[15] "What Military Target Was in My Brother's House: Unlawful Coalition Airstrikes in Yemen."
[16] Andrea Prasow, "U.S. War Crimes in Yemen: Stop Looking the Other Way," Human Rights Watch,
[17] Annabel Nugent, "CBS News foreign correspondent apologises for saying Ukraine is more 'civilised' than Iraq and Afghanistan," Independent, February 27, 2022.
[18] Nesrin Malik, "Let the horror in Ukraine open our eyes to the suffering of war around the world," The Guardian, [opinion] March 01, 2022.
[19] Nesrin Malik, "Let the horror in Ukraine open our eyes to the suffering of war around the world."
[20] For reading on Western Portrayals of Muslim women and mobilization of their plight as justification for military intervention see: Lila Abu-Lughod. Do Muslim Women Need Saving?, (Harvard University Press, 2013).